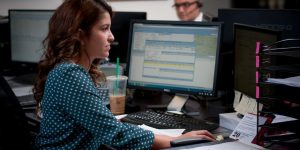 White Arrow Inc. located in Montebello, CA is seeking a Transportation Manager with a bachelor's degree in Industrial Engineering/Management and 24 months of experience. Email resume to Jack Zgunea (jack@whitearrow.com)
– Responsible for coordinating the transportation, storage, and distribution of freight in our transportation network.
– Analyze, develop and implement warehouse safety and security plans and initiatives.
– Inspect warehouse activities, workflows, and performance, identify issues and opportunities for improvement to improve service quality, reduce costs and increase safety.
– Engages all stakeholders in a sustained effort to streamline all logistics processes with emphasis on safety, optimization of flows, and cost reduction.
– Analyzes cargo flows and handling, identifies bottlenecks, and inefficiencies, and provides improvement proposals.
– Plans resource allocation (personnel, tools, dock space, yard, and office space) for Warehouse locations and cross-docks.
– Supervises and enforces compliance with established logistics processes, policies, and procedures.
– Generates relevant reporting and shares knowledge with other Transportation managers within the organization.
Please email your resume to Jack Zgunea (jack@whitearrow.com)