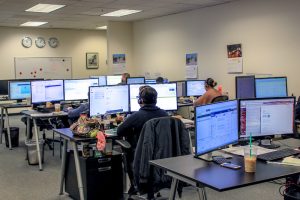 White Arrow Inc. located in Montebello, CA is seeking a Logistician with a bachelor's degree in Business Administration or Logistics with 24 months of experience as a Logistician.  Email resume to Jack Zgunea (jack@whitearrow.com)
Organize and execute logistics support activities, participate in the assessment and review of the logistics solutions offered and perform logistics solution lifecycle analysis. 

Ensure the success of the logistics solutions he or she will have to stay informed of logistics technology developments and apply the proper logistics strategy and solution for each situation. 

Review logistics performance with customers against targets, benchmarks, and service agreements and provide improvement proposals as needed. –

Analyzes customers' logistics needs, identifies bottlenecks, and cost issues, and provides improvement proposals. 

Works closely with the Operations and Sales teams to analyze lanes, profitability, freight density, and other relevant data and provide customers/market context and innovative solutions. 

Plans and organizes customers' onboarding and monitors logistics parameters in the first 30 days of service providing feedback both to customers and internally.

Constantly analyzes the company's asset utilization and establishes/correlates prices to capacity availability. -Needs to be familiar with BigQuery by Google, Google Sheets, Data analysis, and presentation.
Please Email your resume to Jack Zgunea  at jack@whitearrow.com